Advertisement
August 09, 2006 17:07 IST


One question everybody in Chennai is asking: Why has Mohanlal's voice been dubbed in the Tamil version of Keerthichakra? After all, since dubbing in his voice for his very first Tamil film, Mani Ratnam's Iruvar, the Tamil people are familiar with his tone.

If Keerthichakra is a slick, neat film, Aran has comedy tracks, songs featuring the producer's son Jeeva and other elements to make the film more commercially viable and acceptable to the Tamil audience. The irony is, while Mohanlal's Keerthichakra is doing very well in Kerala [Images], the Tamil Aran has bombed at the box office.

Speaking to rediff.com from the jungles of Kerala where he is shooting for Ranjan Pramod's Photographer, Mohanlal said, "I do not want to have anything to do with the Tamil film."

Yes, he is angry and has every reason to feel that way. "From the day the movie released, I am getting calls from Tamil Nadu asking why my voice was dubbed. I want to tell everyone through rediff.com that I was never asked to dub for the Tamil version. Also, we shot the film in Malayalam, not in Tamil."

On being asked if he felt cheated, he said, "I don't look at it as cheating, but what has happened is not a good precedent. I feel the interest of most people who make films lies in making money; they do not have any love for the film. Commercial interests overtake love for the product. How many people make films because they are passionate about them? According to me, all of us should work as one unit, not like this. Moreover, Keerthichakra is not an action film but a film about relationships and people. Although the backdrop is militancy in Kashmir, there are emotional elements that I feel the actor himself should dub. Otherwise, the essence will be lost."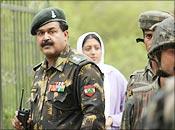 The actor then asks a very pertinent question, "If this happens to an actor like me, who has had 27 years of experience in this field, what about the others? Several of my films were dubbed into Telugu, with somebody else dubbing for me, but they happened with my consent. Here, it was made as a Malayalam film and dubbed without my consent."
When contacted, producer R B Chowdhary said it was only because Mohanlal was shooting in London [Images] that he had to ask somebody else to dub for him. It is another matter that Mohanlal dubbed for the Malayalam Keerthichakra before leaving for London. Now that criticism has been coming from all quarters, the director admits it was a mistake. "Mohanlal is a very big artist and it would have been better if he had dubbed. We had no other option at the time, but I regret the decision."
Mohanlal isn't bothered about the Tamil version having additional footage of Jeeva. "It is their product. Let them do whatever they want. I am not bothered even if they delete my scenes. To tell you the truth, I don't want to have anything to do with the Tamil version."