June 05, 2006 15:06 IST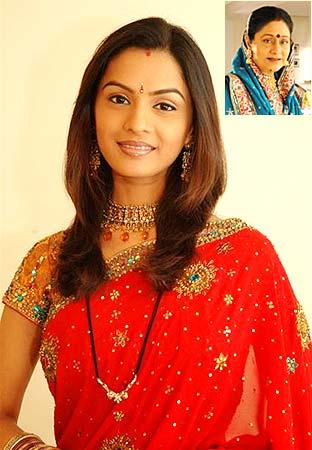 Aroona Irani (inset), now a prolific TV producer, returns to the small screen with her latest serial �
Vaidehi: Ek Aur Agni Pareeksha.
The story revolves around spirited 21-year old Vaidehi (Pallavi Kulkarni, left), who comes from a typical middle-class family, without any grand ambitions. Things change when she marries Aryavardhan (Sachin Sharma), scion to a big business empire. The story is about how she falls in love with Aryavardhan and tries to adjust to an environment completely different from the place she was born and brought up in.
The honeymoon is short lived though, and Vaidehi soon finds herself in trouble. Like her earlier serials, Aruna Irani's Vaidehi too deals with how a girl fights back. Vaidehi is a challenge for Sony in more ways than one. Firstly, it is going to replace the once iconic Jassi Jaisi Koi Nahin. Secondly, it is to challenge the spot currently dominated by Star Plus' Kahani Ghar Ghar Ki.
As N P Singh, COO of SET India Pvt Ltd, says, "After Jassi Jaisi Koi Nahi, the 10 pm slot on the channel will feature a variety of interesting genres -- drama, real life stories, thriller, detective -- that make for wholesome entertainment. Vaidehi will find an echo with millions of women across the country who spend their life in subjugation and despair. "
Aroona Irani is pleased. "I am glad Sony liked the concept and I hope Vaidehi will live up to their expectations. It is a story with a social message, about living life to the fullest and following your own dreams."
For Pallavi Kulkarni, this is a comeback after two years. She wanted to take a break after Kehta Hai Dil and spend time with her family. She agreed to Vaidehi only after a call from Aroona Irani's office explaining the role to her. Pallavi agreed immediately and feels this was a role worth waiting for.
Apart from Kulkarni and Sachin Sharma, Vaidehi also stars Aroona Irani herself and Kiran Kumar. An interesting omission is Irani's former favourite Sangeeta Ghosh.
Vaidehi will be telecast starting June 5, Mondays at 10 pm on Sony Entertainment Television.
Text: Srabanti Chakrabarti